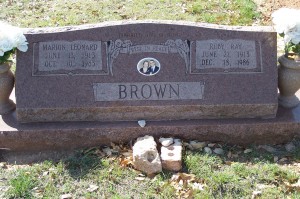 Location: V-Eichelberger
Born: June 13, 1913 Clifton, Bosque County, Texas
Died: October 10, 1983 Waco, McLennan County, Texas
Parents:
John Marion Brown (1872 – 1953)
Della Mae Ferguson Brown (1878 – 1956
Spouse: Ruby Ray Hopkins Brown
Marion Leonard Brown, 70 of Waco, died Monday at a local hospital.
Graveside services: 10 a.m. Wednesday in China Spring Cemetery with Chaplain J.W. Reimenschneider officiating, burial in China Spring Cemetery.
Mr. Brown was born June 13, 1913 in Clifton. He moved to Waco as a child and attended Waco schools. Her married Ruby Ray Hopkins in 1934.
He worked for Waco Chevrolet, Rountree Olds Cadillac and Boon's Body Shop before retiring in 1975. He also owned and operated a body shop.
Survivors include his wife; four sons, Leonard Glenn Brown of Tivoli, Gary Bruce Brown of Phoeniz, Arizona, Marion Ray Brown of Waco and Johnnie C. Brown of Hewitt; two daughters, Bessie Gale Childs of Pearland and Ginger Darlene Simons of Robinson; three sisters, Birtie Weathers and Allie Marquart, both of Waco, and Annie Charles of Los Angeles; 25 grandchildren; and four great-grandchildren.