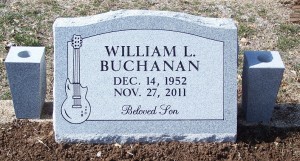 Location: W-Drahn
Born: December 14, 1952 Houston, Harris County, Texas
Died: November 27, 2011 Austin, Travis County, Texas
Son of Glynn Aubrey Buchanan and Bobbie Lorene West Buchanan
William L. "Bucky" Buchanan, 58, of Austin, passed away peacefully at his home after a lengthy battle with cancer. A private memorial service will be held in Austin. A Celebratory Service will be held at at later in China Spring, officiated by Pastor Reed Justus.
William was born at St. Joseph Hospital, Dec. 14, 1952, in Houston, Texas, to Glynn A. and Bobbie Larene West Buchanan. He spent four years in the United States Air Force. After he separated from the service, he moved to Austin where he opened his own business, "Autin Express Tax". Bill loved music. His father gave him his first guitar at the age of eight and he never stopped playing. Bill was one of the founding members of "People's Choice Band" in Austin, where he continued to play almost until the end.
He was preceded in death by his grandparents, Mr. and Mrs. W. N. West and Mr. and Mrs. G. A. Buchanan, Sr.
He is survived by Susan Buchanan; his twin daughters, Ashley Buchanan of Austin and Allyson Buchanan of Dallas, both of whom he loved dearly; his parents, Glynn and Bobbie Buchanan of China Spring; two sisters, Cheryl Jaster of Waco and Karen Snell of Valley Mills; several nieves and nephews.
The family would like to thank the members of "People's Choice Band" and Bill's many friends for their love and care during his illness.