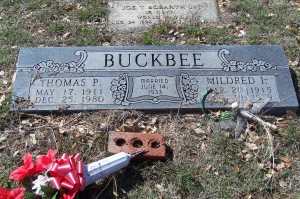 Location: V-Eichelberger
Born: March 20, 1915 May, Comanche County, Texas
Died: August 19, 1989 Waco, McLennan County, Texas
Parents:
James Laws Cannon (1879 – 1941)
Ethel Parsons Cannon (1884 – 1962)
Spouse: Thomas Pruitt Buckbee
Children:
Loreta P Buckbee Vanderpool (1937 – 1979)
Elisia Maureen Buckbee Hass (1949 – 2012)
Another daughter predeceased her, Betty Marie Buckbee, born March 30, 1934 and died in California July 8, 1938.
Mrs. Mildred Buckbee, 74, of Waco died Saturday at a local hospital.
Services will be at 3:30 p.m. Monday at Connally-Compton West Waco Drive Chapel, the Rev. John W. Collier officiating. Burial will be at China Spring Cemetery.
Mrs. Buckbee was born March 20, 1915, in May and was a longtime resident of Waco. She was a member of Parkview Baptist Church.
Survivors include two daughters, Audie Irene Whitman of Waco and Elisia Maureen Hass of Irving; a son, Thomas Wayne Buckbee of Waco; two sisters, Mamie Hurlock of Waco and Leta Faye Horn of Virginia; a brother, L.J. Cannon of Clifton; 10 grandchildren; and 10 great-grandchildren.