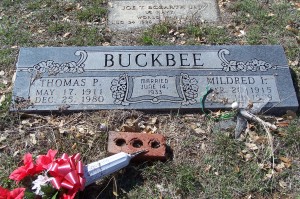 Location: V-Eichelberger
Born: May, 17, 1911 Glen Rose, Somervell County, Texas
Died: December 25, 1980 Waco, McLennan County, Texas
Son of Thomas L. Buckbee and Cora Powel Megason Buckbee
Spouse: Mildred Irene Cannon BuckbeeParents:
T L Buckbee (1880 –
1910)
Cora Powell Megason Junell (1893 – 1973)
Spouse:
Mildred Irene Cannon Buckbee (1915 – 1989)
Children:
Loreta P Buckbee Vanderpool (1937 – 1979)
Elisia Maureen Buckbee Hass (1949 – 2012)
Another daughter predeceased him, Betty Marie Buckbee, born March 30, 1934 and died in California July 8, 1938.
Thomas P. Buckbee, 69, of 2112 Alexander died Thursday afternoon at his residence.
Services were at 1 p.m. Saturday at Connally-Compton West Chapel, the Rev. Ivan Ker officiating. Burial was in China Spring Cemetery.
Mr. Buckbee was born in Glen Rose and lived in Waco the past nine years. He had worked most of his life as a heavy equipment operator and worked in several aircraft factories in Dallas before moving to Waco. He was a member of the Shady Grove Baptist Church of Grand Prairie.
Survivors include his wife, Mrs. Mildred I. Buckbee; two daughters, Mrs. Audie I. Necessary of Mart and Mrs. Elisia M. Hass of Lewisville; a son, Thomas W. Buckbee of Waco; three half-sisters, three half brothers, nine grandchildren and a great-grandchild.