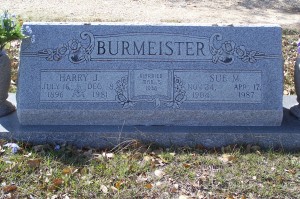 Location: V-Eichelberger
Born: July 18, 1896 in Lake, Milwaukee County, Wisconsin
Died: December 8, 1981 Waco, McLennan County, Texas
Birth record states in was born in Lake, Milwaukee County, Wisconsin. The town ceased to exist in 1954.
Parents:
John Burmeister (1872 – 1945)
Ida Burmeister (1870 – 1942)
Son of John Burmeister and Ida Schimmnack Burmeister
Spouse: Sue Mae French Burmeister
Harry John Burmeister, 85 of Waco, who owned a Waco restaurant for many years, died Tuesday afternoon in a local hospital.
Graveside services will be at 4 p.m. Friday at China Spring Cemetery, the Rev. Larry Keefauver officiating.
Mr. Burmeister was born July 16, 1896 in Waukesha, Wisconsin. He lived most of his life in the Waco area and owned Harry B's Restaurant at 19th and Speight for 28 years.
He was a member of J.H. Gurley Lodge No. 337, AF & AM Scottish Rite bodies and Arabia Temple Shrine.
Survivors include his wife, Mrs. Sue M. Burmeister; a stepson, Buddy Dorbritz of Houston; two sisters, Mrs. Viola Blackenburg of Salem, OR and Mrs. Edessa Billings of Prescott, AZ.