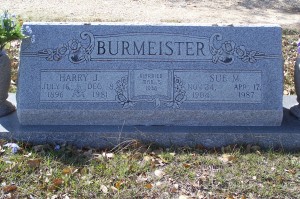 Location: V-Eichelberger
Born: November 24, 1904 Falls County, Texas
Died: April 17, 1987 Waco, McLennan County, Texas
Parents:
Lee Thomas French (1880 – 1948)
Bertie Blackburn French (1885 – 1953)
Mrs. Harry (Sue) Burmeister, 82, of Waco died Friday at her residence.
Graveside services will be at 2:30 p.m. Monday at China Spring Cemetery, the Rev. Tommy Potter officiating.
Mrs. Burmeister was born November 24, 1904 in Falls County, Texas. She came to Waco as a child and attended Waco schools. She was married to Harry Burmeister in 1939 in Waco; he died in 1980.
She was employed at R.E. Cox and Opals Olaa's Inc until her death. She was a member of the American Business Women's Association and the Central Christian Church.
Survivors include a son, F. W. Dorbritz of Dallas; a sister, Mrs. Alma Wolf of Valley View; two grandchildren; and four great-grandchildren.