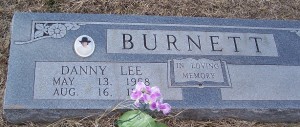 Location: N-Crowson
Born: May 13, 1958 Odessa, Ector County, Texas
Died: August 16, 1979 Clifton, Bosque County, Texas
Son of Ira Lee Burnett and Cynthia Estene Hunter Burnett
Danny Lee Burnett, 21, of Clifton was killed shortly after noon Thursday when he was thrown from and then dragged by his horse while working at the K-Bar Ranch near Clifton.
Services for Burnett will be at 2:30 p.m. Saturday at Gateway Baptist Church in Clifton, the Rev. A. J. Culp officiating. Burial will be in China Spring Cemetery.
Mr. Burnett was born in Odessa moving to Waco in 1967. He graduated from Jefferson-Moore High School in 1977 and married Brenda Theile on Dec. 22, 1978.
Survivors include his wife; parents, Mr. & Mrs. Ira Burnett of Waco; three sisters, Debra Burnett of Marlin, Linda Burnett and Lisa Burnett, both of Waco; brother, Mark Burnett of Waco; maternal grandparents, Mr. & Mrs. W. C. Williams of Fort Worth; paternal grandparents, Mr. & Mrs. H.O. Hunter of Odessa; and a great-great-grandfather, Leroy Swinney of San Angelo.