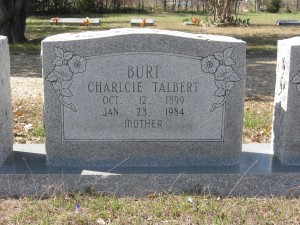 Location: E-Burt
Born: October 12, 1899 McLennan County, Texas
Died: January 23, 1984 Waco, McLennan County, Texas
Parents:
John J Talbert (1864 – 1951)
Susie Jane Crowson Talbert (1873 – 1960)
Spouse:
Charles Adkisson Burt (1901 – 1981)
Children:
Charles Talbert Burt (1924 – 2009)
June Marie Burt Smith (1928 – 1999)
Travis Joe Burt (1930 – 2012)
Franklin Eugene Burt (1934 – 1991)
Henry Allison Burt (1935 – ____)
Mrs. Charlcie Talbert Burt, 84, China Spring's postmaster for more than two decades, died Monday at a local hospital.
Services will be at 10 a.m. Wednesday at Connally-Compton West Funeral Home Chapel, the Rev. James Densman and the Rev. Jeff Netchell officiating. Burial will be China Spring Cemetery.
Mrs. Burt was born Oct. 12, 1899, and was married to Charlie Burt. She retired as postmaster in China Spring in 1969.
Survivors include three daughters, Mrs. Dan (Elsie) Garrett and Mrs. Fred (June) Smith, both of Waco and Mrs. Joe (Sue) Littlepage of Biloxi, Miss.; four sons, Charles T. Burt, Eugene Burt, Al Burt, T.J. Burt, all of China Spring; four sisters, Mrs. Lela Payne of Waco, Mrs. Annie Pearl Payne of China Spring, Mrs. W. A. (Tex) Dorris of Dallas, and Mrs. Frank (Elsie) Grijaiva of Glendale, California; four brothers, Les Talbert of Happy, Jake Talbert of Meridian, Miss., C.O. Talbert and Bunt Talbert, both of China Spring; ten grandchildren.