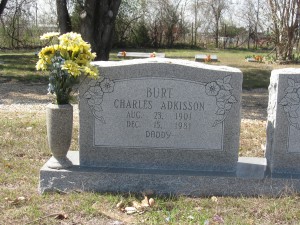 Location: E-Burt
Born: August 23, 1901 Erath, McLennan County, Texas
Died: December 15, 1981 Waco, McLennan County, Texas
Parents:
Charles William Burt (1880 – 1965)
Rachel Goodman Burt (1878 – 1920)
Spouse:
Charlcie Talbert Burt (1899 – 1984)
Children:
Charles Talbert Burt (1924 – 2009)
June Marie Burt Smith (1928 – 1999)
Travis Joe Burt (1930 – 2012)
Franklin Eugene Burt (1934 – 1991)
Henry Allison Burt (1935 – ____)
Charles A. Burt, 80, of China Spring died Tuesday night in a local hospital.
Services will be at 10 a.m. at Connally-Compton West Chapel, the Rev. James Densman officiating. Burial will be at China Spring Cemetery.
Mr. Burt was born Aug. 23, 1901, in Erath and lived in the Erath and China Spring areas all his life. He was a retired carpenter and a member of First Baptist Church in China Spring.
Survivors include his wife, Charcia Burt; three daughters, Mrs. Stan (Elsi) Garrett and Mrs. Fred (June) Smith, both of Waco, and Mrs. Joe (Sue) Littlepage of Biloxi, Miss; four sons, Charles T. Burt, Eugene G. Burt and Al Burt, all of China Spring and T. J. Burt of Waco; three sisters, Mrs. Mabel Stagg of El Cherrito, Calif., Mrs. Ruth Lunderberg of Houston and Mrs. Wanietta McBride of Simi Balley, Calif; two brothers, Oran Burt and B. D. Burt, both of China Spring; 10 grandchildren, and six great-grandchildren.