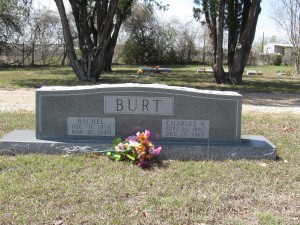 Location: E-Burt
Born September 20, 1880 Mississippi
Died: December 13, 1965 Waco, McLennan County, Texas
Parents:
Charles W Burt (1854 – 1932)
Frances Cornelia Erwin Burt (1861 – 1954)
Children:
Charles Adkisson Burt (1901 – 1981)
Oren J Burt (1903 – 1992)
John Alton Burt (1905 – 1975)
Guy Burt (1910 – 1926)
Hugh Conger Burt (1911 – 1967)
Callie Ruth Burt Londenberg (1913 – 1999)
Billie Boyd Burt (1916 – 2004)
Charles William Burt, 85, of Waco, died at 5:30 p.m. Monday in  a Waco hospital.
Funeral services were at 1 p.m. today in Connally Funeral Chapel with Rev. Earl C. Vanderford officiating. Burial was in China Spring Cemetery.
Mr. Burt was born in Mississippi and came to McLennan County with his parents at the age of three, settling in the Erath community. He married the former Rachel Goodman. He was a deputy sheriff for several years and a member of the school board. He was a Baptist.
Surviving are three daughters, Mrs. Ruth Londenberg of Houston, Mrs. Juanita McBride of Granada Hills, California, and Mrs. Mabel Stag of El Cerrito, California; five sons, B.B. Burt, John A. Burt, C.A. Burt, Oren Burt and Hugh Burt; three sisters, Mrs. Eva Gholson, Mrs. Rosa Kline, and Mrs. Jesse Webb; five brothers, Tom Burt, Joe Burt, Leslie Burt, Henry Burt and Howard Burt.