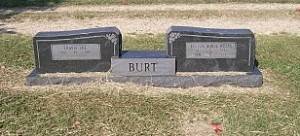 Location: V-Eichelberger
Born: August 5, 1931 Jonesboro, Coryell County, Texas
Died: February 2, 1984 Waco, McLennan County, Texas
Daughter of Homer Wells and Ollie Marshall Wells
Parents:
Homer Wells (1907 – 1984)
Spouse:
Travis Joe Burt (1930 – 2012)
Mrs. Evelyn Doris Burt, 52 of China Spring died Thursday at a local hospital.
Services will be at 1 p.m. Friday at Connally-Compton West Chapel, the Rev. Terry Nelson and the Rev. James Densman officiating. Burial will be at China Spring Cemetery.
Mrs. Burt was born August 5, 1931 in Jonesboro. She was a 20 year Waco resident.
Survivors include her husband, T. J. Burt; her mother, Ollie Wells of Waco; a son, Brian Marshall Burt of League City; three brothers, Doyle Wells of Pasadena, Homer Wells, Jr. of Deer Park and Joe Wells of Pearland.