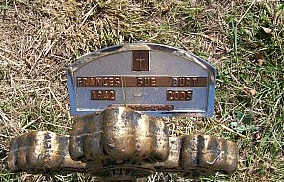 Location: U-Baker
November 28, 1942 Alton, Madison County, Illinois
Died: January 17, 2005 Waco, McLennan County, Texas
Parents:
Harry K Fearno (1906 – 1997)
Charlotte C Long Fearno (1908 – 1997)
Frances Sue Burt, 62, of Waco lost her battle with cancer on Monday, Jan. 17, 2005, at her residence.  Graveside services will be at 11 a.m. Thursday, Jan. 20 at China Spring Cemetery with the Rev. Darrell Phillips officiating.
Frances was born Nov. 28, 1942, in Alton, Ill., to Harry K. and Charlotte (Long) Fearno.  At the age of six, Owens Illinois Glass Co. transferred her family to Waco.  She graduated from Waco High School and Baylor University.
She worked at Fort Fisher for many years and retired from the U. S. Post Office.  She touched the lives of many people who will miss her greatly.
Survivors include her daughter, Laurie (Burt) Metcalf of China Spring; grandson, Jordan Metcalf; brother, Harry Dean Fearno of Waco; and nieces, Charlotte and Deana Fearno.