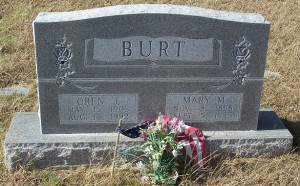 Location: E-Burt
Born: May 15, 1903 Erath, McLennan County, Texas
Died: August 14, 1992 Waco, McLennan County, Texas
Parents:
Charles William Burt (1880 – 1965)
Rachel Goodman Burt (1878 – 1920)
Spouse:
Mary Maud Hendrick Burt (1890 – 1955)
Oren J. Burt, 89, of Waco died Friday at a local retirement center.
Graveside services will be 3 p.m. Monday at China Spring Cemetery, Chaplain Jake Riemenschneider officiating.
Mr. Burt was born May 15, 1903, in the Erath community. He married Mary Maude Hendricks; she preceded him in death. He farmed in the Erath community for a number of years and later become an equipment foreman for Hendricks Construction Company.
Survivors include a brother, B.B. Burt of China Spring; and two sisters, Juanita McBride of Portland, Oregon and Ruth Londenberg of Waco.