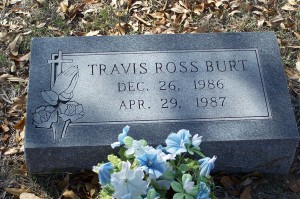 Location: V-Eichelberger
Born: December 26, 1986 Clear Lake, Harris County, Texas
Died: April 29, 1987 Houston, Harris County, Texas
Son of Brian Burt and Dana Dalin Anderson Burt
Travis Ross Burt, infant son of Brian and Dana Burt of League City, died Wednesday at a Houston hospital.
Graveside services will be at 2 p.m. Saturday at China Spring Cemetery, the Rev. Terry Anderson officiating.
The infant was born December 26, 1986 Clear Lake.
Other survivors include maternal grandparents, Mitchell Anderson of Kountz and Bertha Smith of San Leon; and paternal grandfather, T. J. Burt of China Spring.
The family will be at the T. J. Burt residence.