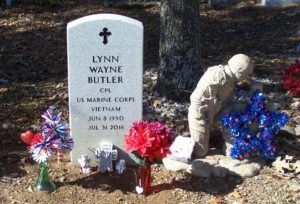 Born: June 8, 1950 Clifton, Bosque County, Texas
Died: July 31, 2016 McLennan County, Texas
Lynn Wayne Butler, 66, of Elm Mott, went to be with his Lord and Savior on Sunday, July 31, 2016.
Visitation: Tuesday, August 2, 2016 from 6:00PM to 8:00PM at Lake Shore Funeral Home, 5201 Steinbeck Bend, Waco. Funeral services will be Wednesday, August 3, 2016 at 2:00PM at Lake Shore Funeral Home, 5201 Steinbeck Bend, Waco. With Pastor David Arnett officiating. Burial will follow at China Spring Cemetery with the United States Marine Corp Honor Guard delivering military honors.
Lynn was born on June 8, 1950 in Clifton, Texas to Philip Lyn and Jewel Ferguson Butler. At a young age, Lynn joined the United States Marine Corp, serving honorably during the Vietnam War. During his two tours in Vietnam, he was awarded numerous accommodations.
Lynn married the love of his life, Elvira Rosenbaum on February 10, 1978 in Brownsville, Texas. Lynn worked with heavy equipment and was in construction for many years; he could do and fix anything he set his mind to. He loved the outdoors, especially fishing and hunting for arrowheads.
He was preceded in death by his parents, Philip and Jewel Butler. Lynn's family was his passion and his legacy will live on in them for years to come.
Lynn will be cherished in memory and love by his wife over 38 years, Elvira Butler of Elm Mott; sons, Phillip Lyn Butler and wife Tina, Stephen Carl Butler, and Rene Coronado and wife Marisa; daughters, Lisa Finley Brewington and husband Jared, and Dianne Butler Reeves and husband Gerald; brothers, Steven Philip Butler and wife Tereasa, and Michael Shane Butler and wife Janice; sisters, Katherine Nabors and husband Lany and Darla DiCorte and husband Mark; 14 grandchildren, 3 great-grandchildren; along with numerous nieces, nephews, and other loving family and friends.