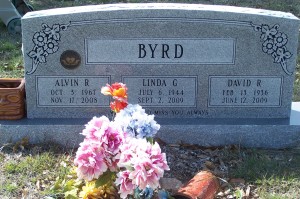 Location: V-Eichelberger
Born: October 3, 1967 Bell County, Texas
Died: November 17, 2008 Breckenridge, Stephens County, Texas
Parents:
David Robert Byrd (1936 – 2009)
Linda Gail Glenn Byrd (1944 – 2009)
Alvin Robert Byrd, 41, passed away at a Breckenridge Hospital. Services will be 2 p.m. Saturday, Nov. 22, at Pecan Grove Funeral Home with the Rev. James Berger officiating. Family will receive visitors 5 to 7 p.m. Friday, Nov. 21, at Pecan Grove Funeral Home in Waco. Burial will follow at China Spring Cemetery.
Alvin was the son of David R. and Linda G. Byrd. He attended Connally High School and graduated from China Spring High School in 1985. He was a member of Bellmead Calvary Baptist Church. He was a proud owner and operator of Island Marine Services Inc. Alvin was known for his honest character and generous giving personality.
He is survived by his daughter, Amy N. Byrd, of Corpus Christi; his parents, David and Linda Byrd, of China Spring; brother, Larry Clark and wife, Janet, of Corpus Christi; grandfather, A.E. Jackson, of Michigan; and numerous nieces, nephews, other relatives and many friends.