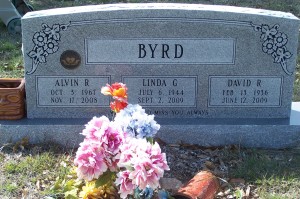 Location: V-Eichelberger
Born: July 6, 1944 Hill County, Texas
Died: September 2, 2009 China Spring, McLennan County, Texas
Parents:
Edgar Hewie Glenn (1906 – 1949)
Dorothy B Heine Pate (1910 – 2004)
Spouse:
David Robert Byrd (1936 – 2009)
Children:
Alvin Robert Byrd (1967 – 2008)
Linda Gail Byrd, 65, of China Spring, Texas, surrounded by loving family and friends, passed away Wednesday, Sept. 2, 2009, at home. Services will be 2 p.m. Saturday, Sept. 5, at Pecan Grove Funeral Home, with Pastor James Berger officiating. Burial will follow at China Spring Cemetery. The family will receive visitors 5 to 8 p.m. Friday, Sept. 4, at Pecan Grove Funeral Home.
Linda, being the strong woman she was, fought pancreatic cancer for over 11 months. Linda retired in February of 2009 from the United States Post Office in China Spring, after dedicating over 12 years of the last part of her life to faithfully delivering the mail as a rural carrier. Here is a story that could never be told in a one paragraph obituary; her's is a story that will never end. Linda's story and her love will live on forever in the smiles, the tears, the laughter, and the hearts and lives of those family and friends she leaves behind; mother I love you and miss you, you are and forever will be my inspiration.
She is preceded in death by her father, Edgar Glenn; mother, Dorothy Heine; youngest son, Alvin R. Byrd on Nov. 17, 2008; loving husband, David R. Byrd, on the day of their 44th anniversary, June 12, 2009; a sister, Audrey Kirk; and brothers, Charles and Alvin Glenn.
She is survived by her son, Larry (Byrd) Clark and wife, Janet; grandchildren, Brittney Hejl, Corey Clark, Amy Byrd, Hayden Clark, and Ashley and Tiffany Ferguson; great-grandchildren, Mason and Micah Hejl, and Paige Byrd; sister, Lucile Machan; stepbrother, Lenard Pate; along with numerous nieces and nephews.