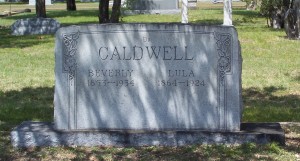 Location: P-Higginbotham
Born: September 5, 1853 Kentucky
Died: April 21, 1934 Waco, McLennan County, Texas
Parents:
Josiah Hatcher Caldwell (1822 – 1896)
Mariah Anderson Caldwell (1826 – 1902)
Spouse:
C. Lula Fetzer Caldwell (1864 – 1924)
They married on Nov 5, 1884 in McLennan County, Texas
Children:
Josiah Hatcher Caldwell (1885 – 1967)
Mary Helen Caldwell Higginbotham (1887 – 1948)
Enoch B. Caldwell (1890 – 1948)
Funeral services for Dr. Beverly Caldwell, pioneer physician of McLennan County who died at the home of his son, Joe Caldwell of Waco at 3 a.m. Saturday, will be held at China Spring Methodist Church, Dr. Arthur Stout officiating. Burial will be in China Spring Cemetery.
Dr. Caldwell was a native of Kentucky and graduated from the Louisville Medical College. For 40 years he practiced medicine in China Spring, retiring about eight years ago. He was 80 years of age.
Surviving are two sons, Joe and Enoch Caldwell; daughter, Mrs. W. J. Higginbotham; five grandchildren; two sisters, Mrs. W. B. Hays of Waco and Mrs. E. H. Hardin of Dallas; a brother, Phil Caldwell of Waco.
Pallbearers will be Will McLennan, Herman Eichelberger, Ben Roberts, Will Kelly, J.D. Sherwood, and Lynn Kennedy.
Honorary pallbearers will be Dr. H. R. Dudgeon, Dr. J. W. Hale, Frank Jay, Lee Ringer, Jack Ringer, Steve Eichelberger, R. L. Crawford, Lee Hawkins, S. P. Kennedy, A. Eichelberger and P.D. Smith.