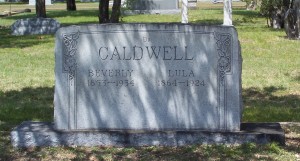 Location: P-Higginbotham
Born: January 16, 1864 China Spring, McLennan County, Texas
Died: December 27, 1924 China Spring, McLennan County, Texas
Daughter of Enoch Burton Fetzer and Sarah Elizabeth Martin Fetzer
Parents:
Enoch Burton Fetzer (1818 – 1883)
Sarah Elizabeth Martin Fetzer (1832 – 1880)
Spouse:
Beverly Caldwell (1853 – 1934)
Children:
Josiah Hatcher Caldwell (1885 – 1967)
Mary Helen Caldwell Higginbotham (1887 – 1948)
Enoch B. Caldwell (1890 – 1948)
Mrs. Lula Fetzer Caldwell, wife of Dr. Beverly Caldwell, died in China Spring Saturday morning at 2:15 a.m., rather suddenly, though she had been in poor health for a long time. She was 60 years old and was born and reared in McLennan County, have lived most of her life at China Spring.
Mrs. Caldwell was  a practical nurse and her services in the China Spring community are said to have been invaluable.
She is survived by her husband; three children, J. H. Caldwell, Mrs. W. J. Higginbotham and Dr. Enoch B. Caldwell. Also she has three sisters, Mrs. Jim Shillings (print is old and not easily read), Miss Sallie Fetzer and Mrs. M. T. Presnall.
Funeral services will be held this afternoon at 2 o'clock, with Rev. J .W. ???, pastor of Central Christian Church, Waco, of which she was a member, officiating. Interment will be in the cemetery at China Spring.
Active pallbearers: F. W. Jay, T. M. Curton, R. L. Crawford, T. L. Ringer, Ben Roberts, and Jack Smith.
Honorary pallbearers will be E. E. Seago, Dr. H. R. Dudgeon, Dr. J. W. Hale, Dr. J. M. Knight, Lee R. Davis, John W. Baker, S. F. Kennedy, C. S. Eichelberger…the obit is so old the words are not clear.