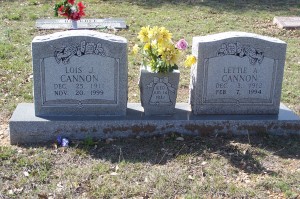 Location: V-Eichelberger
Born: December 3, 1912 Waco, McLennan County, Texas
Died: February 7, 1994 Cleburne, Johnson County, Texas
Daughter of Henry Harrison Stuart and Maggie Etta Baker Stuart
Spouse:
Lois Jordon Cannon (1911 – 1999)
Children: Harry Cannon and Doyle Cannon
Lettie Cannon of Godley, a retired seamstress formerly of Clifton, died Monday at a Cleburne hospital.  She was 81.
Services will be at 1:30 p.m. Wednesday at the Clifton Funeral Home Chapel,  the Rev. Jerry Smith officiating.  Burial will be at the China Spring Cemetery.
Mrs. Cannon was born Dec. 3, 1912, in Waco.  She married L. J. Cannon on June 14, 1930.  She retired from Wall's Industries.  Mrs. Cannon was a member of the Clifton First Baptist Church.
Survivors include her husband; two sons, Harry Cannon of Austin and Doyle Cannon of Godley; a sister, Bertha Evetts of McGregor; six grandchildren; and nine great-grandchildren.