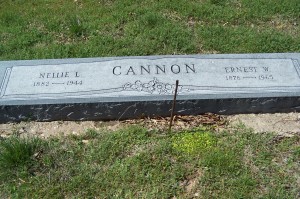 Location: J-Payne Street
Born: October 31, 1882 Arkansas
Died: May 13, 1944 Waco, McLennan County, Texas
Parents:
Jasper Jay (1844 – 1924)
Nancy Elizabeth Turner Jay (1859 – 1929)
Spouse:
Ernest Watson Cannon (1878 – 1965)
Children:
Ruie Cannon Fetzer (1901 – 2000)
Agnes Cannon Bain (1903 – 1973)
Irene Cannon Cunningham (1907 – 1993)
Hortense Cannon Swaner (1911 – 1988)
Margaret Pauline Cannon Breedlove (1913 – 2001)
Ernest Albert Cannon (1916 – 1982)
Vivian Cannon Comer (1919 – 2009)
Carroll Eugene (Gene) Cannon (1922 – 1991)
Siblings:
Martha Ellen Jay Crawford (1870 – 1945)
Frank Walton Jay (1872 – 1934)
Margaret Melvina Jay Hutto (1874 – 1938)
Nole Simmons Jay Brown (1877 – 1953)
Susan Ethel Jay Chapman (1879 – 1965)
Nellie Leota Jay Cannon (1882 – 1944)
Arizona Marcella Jay Neelley (1885 – 1955)
Sarah Mae Jay (1888 – 1971)
Roscoe Marcus Jay (1890 – 1972)
Hubert Otto Jay (1895 – 1973)
Mrs. Nellie Leota Cannon, 61, died at 12:20 a.m. Saturday at her home in Waco.
Funeral services will be held at the China Spring Methodist Church at 3 p.m. Sunday, Rev. G. P. Comer and Rev. J. V. Baird officiating, burial in China Spring Cemetery.
Survivors are her husband, E. W. Cannon; six daughters, Mrs. S. P. Fetzer, Mrs. Agnes Cannon Bain, Mrs. E. A. Swaner, Mrs. J. C. Breedlove, Miss Vivian Cannon, Mrs. G. K. Cunningham; two sons, E. A. Cannon, and Carroll E. Cannon; two brothers, Ross Jay and Hubert Jay; four sisters, Mrs. S. M. Neelley, Miss Sallie Jay, Mrs. R. L. Crawford and Mrs. Ethel Chapman and Mrs. Sam Brown.
Pallbearers: H. G. Pierce, H. H. Grayson, F. N. Stolte, Clarence Reid, W. H. Swaner and H. C. Perry.
Mrs. Cannon was born in Arkansas and had lived in McLennan County practically all her life.