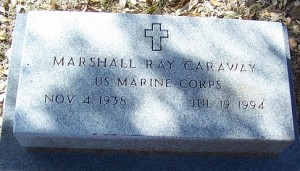 MM. Location: V-Eichelberger
Born: November 4,1938 Taylor, Williamson County, Texas
Died: July 19, 1994 Bosque County, Texas
Marshall Ray Caraway of Robinson died Tuesday in Bosque County from a gunshot wound. He was 55.
Graveside services will be 11:30 a.m. Friday at China Spring Cemetery, the Rev. James Tate officiating.
Mr. Caraway was born Nov. 4, 1938, in Taylor. He attended school in Rockdale and graduated in 1956. He later received a degree in animal science from Texas A&M University. He served in the U.S. Marine Corps and was a Baptist. He owned and operated Oak Ridge Realty in Robinson.
Survivors include two daughters, Mary Kathryn Ewing of Hurst and Rebekah Welch Caraway of China Spring; two sons, Ross Stewart Caraway and Michael McLennan Caraway, both of China Spring; his mother, Maline Caraway of Rockdale; sister, Diane Trevino of Houston; and a grandchild.