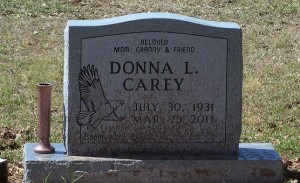 Location: U-Baker
Born: July 30, 1931 Altona, Knox County, Illinois
Died: March 25, 2011 Robinson, McLennan County, Texas
Parents: Lenard and Louise Chesser
Spouse:
Laylen Robert Carey (1928 – 1982)
Donna L. Carey, 79, of Robinson, went to be with her Lord and Savior Jesus Christ, Friday, March 25, 2011, at her home in Robinson. Services will be 10 a.m. Monday, March 28, at Grace Baptist Church in China Spring, with the Rev. Eric Emblem officiating. Internment will follow at the China Spring Cemetery. The family will receive visitors 3 to 5 p.m. Sunday, at Pecan Grove Funeral Home.
Donna was born in Altona, Illinois, to Lenard and Louise Chesser. She married Laylen R. Carey on March 12, 1949, in Palmira, Mo. Donna lived in the Dallas, Texas area most of her life, and this included the areas of Duncanville, Red Oak, Rockett, and Cedar Hill. Donna retired from the U.S. Postal Service in 1991 and enjoyed spending time with her family, bird watching, and visits to the Texas Gulf Coast. She will be remembered as "one of those ladies" who was always sending greeting cards of all occasions, and usually when one was not expected. Donna was a faithful Prayer warrior, and she enjoyed her membership and attendance at Grace Baptist Church, where she was a member for some time. She was also a member for many years at the Gospel Lighthouse Church in Dallas.
Donna was preceded in death by her husband, Laylen in 1982; her grandson, Andy Carey in 1998; her son-in-law, Robert Fields in 1999; and her mother, Louise in 1991.
Donna is survived by her sons, Dennis Carey and wife, Judy, of Cedar Hill, David Carey and wife, Martha, of Summerfield, La., Donald Carey and wife, Carla, of Seymour, Ind., and Patrick Carey and wife, Cindy, of Robinson; daughters, Linda Williams and Maryann Fields, both of Sachse, Texas; 12 grandchildren; three great-grandchildren; and many friends.