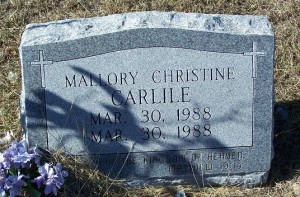 Location: E-Burt
Born and died March 30, 1988 in Fort Worth, Tarrant County, Texas
Services for Mallory Christine Carlile, infant daughter of Mr. & Mrs. William C. Carlile III of Weatherford, will be at 2 p.m. today (April 2, 1988) at China Spring Cemetery, the Rev. T. Stringer officiating.
The infant died Wednesday at a Fort Worth hospital.
Other survivors include her maternal grandparents, Mrs. & Mrs. Fred Smith of Waco, and her paternal grandmother, Mrs. B. J. Carlile of Waco.