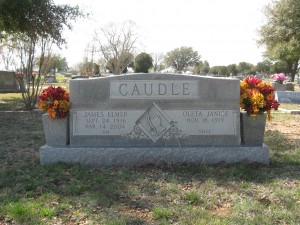 Location: V-Eichelberger
Born: September 24, 1916 Fort Chadbourne, Cooke County, Texas
Died: March 14, 2004 Temple, Bell County, Texas
Son of Elmer Sylvester and Bettie Evelyn Sneed Caudle.
Parents:
Elmer S. Caudle (1894 – 1970)
Bettie Evelyn Sneed Caudle (1896 – 1976)
Spouse: Oleta Janice Vick Caudle
Jim Caudle, 87, of Waco died Sunday, March 14, 2004 at a Temple hospital. Funeral services will be at 2 p.m. Wednesday, March 17 at Connally-Compton Funeral Directors with Dr. Lynn Parks officiating. Burial will follow at China Spring Cemetery.
Jim was born September 24, 1916 in Fort Chadbourne to Elmer Sylvester and Bettie Evelyn Sneed Caudle. He married Oleta Janice Vick on August 21, 1937 and they celebrated 66 years together.
Jim served in the Navy during WWII, had lived in Waco the past 50+ years, worked at Waco Automotive & Miller Company, owned and operated Modern Auto Parts until 1975, was an outside salesman for Cobbs Automotive until his retirement in 1999, loved to play golf, and was a Baptist.
Preceding Jim in death were his parents; sisters, Ina Pittman and Lois Justin;  brother, Don Caudle.
Surviving Jim are his wife, Janice Caudle; son, Harold Caudle of Irving; daughter, Beverly Stickland and husband, Gary of McGregor; brothers, George Caudle of Dennison, Wiley and Lewis Caudle, both of Harrison, Arkansas; sisters, Audrey Bibb of Harrison, Arkansas and Charlene Tyson of Lamesa; grandchildren, Jim, Bob, Ken and Craig Caudle, Gregg Strickland, Lori Harvey and Traci Schubert; great-grandchildren, Megan, Justin and Jessica Harvey, Samantha Schubert and Cole Strickland.
Pallbearers will be Bob Craig, Jim and Ken Caudle, Scott Harvey, Joe Schubert, and Gregg Strickland.