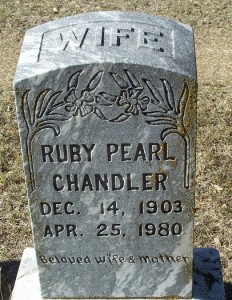 Location: S- Monroe
Born: December 14, 1903 Waco, McLennan County, Texas
Died: April 25, 1980 Dallas, Dallas County, Texas
Daughter of James F. and Ruth Lucretia Boykin Hale Chandler
Spouse:
Eurick Wiltie Chandler (1901 – 1929)
Mrs. Ruby Chandler, 76, of Waco died Friday at Baylor Medical School in Dallas.
Memorial services will be held at 2 p.m. Sunday at the Regis Home for the Aged Chapel, the Rev. H. J. Starnes officiating.
Mrs. Chandler was a native Wacoan.
Survivors include one daughter, Mrs. Corene Green of San Antonio; son, Andrew Sherman Chandler of Killeen; three sisters, Mrs. Mable Trammel, Mrs. Jimmie Lou Horne, and Mrs. Stella Wilkerson of Alabama; four grandchildren; and three great-grandchildren.