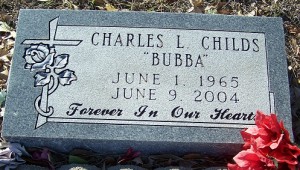 Location: V-Eichelberger
Born: June 1, 1965 Waco, McLennan County, Texas
Died: June 9, 2004 Waco, McLennan County, Texas
Son of Carlos Erwin Childs and Connie Lynn Crawford Childs
Charles "Bubba" Childs, 39, of Waco, passed away Wednesday, June 9, 2004, in a Waco hospital. Graveside services will be at 10 a.m. Saturday at China Spring Cemetery with Rev. Rick Mang officiating.
Bubba was born June 1, 1965 in Waco, and attended both Richfield and Waco High School, graduating from Waco High in 1983.
He is survived by two children, Cody and Anna Childs of McGregor; mother, Connie Cullom of Waco; father, Erwin Childs and wife Johnnie Mae of Waco; brother, John Childs of Waco; sister, Cara "Sissy" Hanna and husband Richard of China Spring; step-sister, Jacqueline Cullom Murphy and husband, David of Seguin; nephews, John, Chris, and Jarod Hanna; nieces, Jessica Hanna, Kathryn Garza, and Madison Murphy; special uncle, Vernon Crawford.
Pallbearers will be John, Chris and Jarod Hanna, Donnie Rorie, Randy Yates and Nick Rodriguez.
"If you are lucky enough to find a way of life you love, you have to find the courage to live it. " – John Irving.