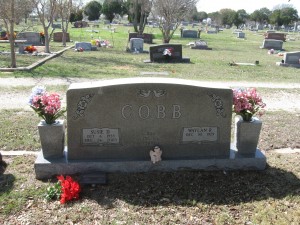 Location: V-Eichelberger
Born: October 4, 1933 Flat Gap, Johnson County, Kentucky
Died: December 26, 2003 China Spring, McLennan County, Texas
Daughter of Powell and Golden Williams McKenzie
Spouse: Waylan Ray Cobb
Children:
Susan Michelle Cobb Ray (1968 – 1996)
Susie Delores Cobb, 70, of China Spring, passed away Friday night December 26, 2003, at her home, surrounded by her loving family. Services will at 10 a.m. Tuesday, at Oak Crest Funeral Home Chapel with the Rev. Ross Davis officiating. Burial will follow at China Spring Cemetery.
Susie was born Octboer 4, 1933 in Flat Gap, Kentucky to Powell and Golden Williams McKenzie. She married Waylan R. Cobb on Feb. 18, 1953 in Indianapolis, Indiana.
She had two careers in her life and did outstanding with both. First, as a housewife, Susie was a loving and devoted wife, mother and grandmother who liked people. She was a true "Granny" who raised a lot of neighborhood kids. She also loved to cook and travel. Secondly, she was the Office Manager for the Cross Country Water Co., a job she enjoyed for 26 years until her health failed. She was a member of First Baptist Church of China Spring, and attended Grace Baptist Church.
She was preceded in death by her parents; daughter, Michelle Ray; and brothers, Willis, Grady, and Robert McKenzie.
Her survivors include her husband of 50 years, Waylan R. Cobb; sons, Larry M. Cobb and wife Sally of China Spring, and Ben R. Cobb and fiancée Jane Govea of Fort Worth; grandchildren, Michael Cobb and wife Lisa of China Spring, Lynda Smith of Oswego, ILL., Jerry Trout of Hewitt and Dan Trout of Canon City, Colorado.