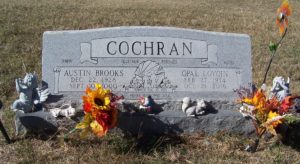 Born: February 27, 1934 Dallas, Dallas County, Texas
Died: October 21, 2016 Waco, McLennan County, Texas
Parents: Jessie and Geneva Donica Robertson
Spouse:
Austin Brooks Cochran (1928 – 2000)
Opal Cochran, 82, of Laguna Park, passed away on October 21, 2016. A graveside service under the direction of Marshall and Marshall Funeral Directors in Whitney, will be held at 2:00 PM, Monday, October 24, 2016 at China Spring Cemetery in China Spring, with Mr. Harrell Wilson officiating. A visitation will be held from 4-7 PM on Sunday, October 23, 2016, at the funeral home.
Opal was born on February 27, 1934, in Dallas, to Jessie and Geneva (Donica) Robertson. She married Brooks Cochran on August 8 1976. They loved the outdoors, camping, fishing and boating.
She was a loving wife, mother, grandmother and great-grandmother. Family was very special to her.
She was preceded in death by her husband, her parents, and a son.