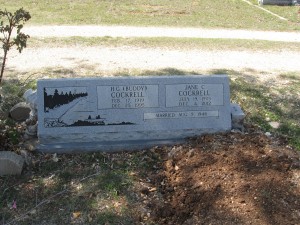 Location: W-Drahn
Born: February 17, 1919 Itasca, Hill County, Texas
Died: December 25, 1995 Waco, McLennan County, Texas
Son of Noah Belview Cockrell and Ida Ethel (unknown maiden) Cockrell
Parents:
Noah B Cockrell (1892 – 1970)
Ida E Cockrell (1893 – 1982)
Spouse:
Jane C Crockett Cockrell (1925 – 2012)
H. G. (Buddy) Cockrell of Waco, a retired Sears Roebuck employee, died Monday at a local hospital. He was 76.
Graveside services will be 11:30 a.m. Wednesday at China Spring Cemetery, Chaplain Curtis Holland officiating.
Mr. Cockrell was born February 17, 1919 in Itasca, where he was raised and attended school He graduated from Itasca High School in 1937 and married Jane Crockett in 1946.
He served in the U.S. Army during World War II and received the Distinguished Unit Badge Campaign Medal with five Bronze Starts, Good Conduct Medal and Purple Heart with one oak leaf cluster. He was honorably discharged from the military on October 11, 1945.
He worked for Sears Roebuck & Co. and retired after 32 years of service. He was an avid hunter, fisherman, and CB radio enthusiast. He was a Methodist.
Survivors include his wife; a daughter, Regina Phythian of Waco; a son, Gregg Cockrell of Waco; and two grandsons.