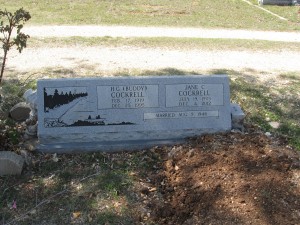 Location: W-Drahn
Born: July 19, 1925 Deleon, Comanche County, Texas
Died: December 4, 2012 Waco, McLennan County, Texas
Daughter of Clarence W. and Jewell Tuner Crockett
Parents:
Clarence Willis Crockett (1894 – 1942)
Eula Jewel Turner Crockett (1893 – 1981)
Spouse:
H G Cockrell (1919 – 1995)
Jane Cockrell, 87, of Waco, passed away Tuesday, December 4, 2012.  A graveside service will be at 11 a.m. Friday, December 7 at China Spring Cemetery with the Rev. Carroll Bonner officiating.
Jane was born July 19, 1925 in Deleon to Clarence W. and Jewell Turner Crockett. She graduated from Whitney High School and attended Hill Jr. College. She met and later married H. G. Cockrell on August 9, 1946 in Whitney. They lived in Waco most of their adult lives. Jane was a member of Bosqueville United Methodist Church. She enjoyed camping, traveling, fishing, cooking, canning and was involved in 38+ C.B. Radio Club.
She was preceded in death by her husband, H. B. Cockrell; and grandson, Britton Phythian.
Survivors include son, Gregg Cockrell and wife Dana of Waco; daughter, Regina Phythian of Waco; grandchildren David Phythian Jr., Carson Cockrell; and great-grandchildren, Mason, Ryker, Bree and Kinley.