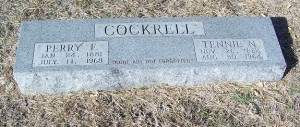 Location: M-Harris
Born: November 26, 1882 Bosque County, Texas
Died: August 30, 1964 Waco, McLennan County, Texas
Daughter of Samuel Doak Tyra an Nancy E. Leepar
Parents:
Samuel Doak Tyra (1856 – 1922)
Spouse:
Perry Franklin Cockrell (1881 – 1968)
Children:
Lena Frances Cockrell Gregory (1905 – 1988)
Fleda Cockrell Bradbury (1907 – 1980)
Letha Naomi Cockrell McGee (1918 – 1996)
Funeral services for Mrs. Tennie Cockrell of 1717 Clark Street will be at 2:30 p.m. Tuesday in Connally Chapel with Rev. Roy L. Smith officiating.  Burial will be in China Springs Cemetery.
Mrs. Cockrell was a member of the Nazarene Church.  She had lived in Waco six years..  She was born in Bosque County.
Survivors are her husband, P.F. Cockrell, two sons, Thomas H. Cockrell of 3804 North 20th St. and Douglas Cockrell of California; five daughters, Mrs. Bob Gregory of 1719 Clark Street, Mrs. Fleda Bradbury of Waco, Mrs. Roy Shows of Burleson, Mrs. Mattie Watts of Flagstaff, Arizona and Mrs. Andrew McGee of Los Gatos, California; 29 grandchildren and 35 great grandchildren.