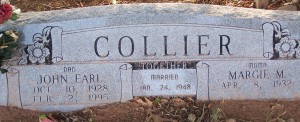 Location: U-Baker
Born: October 10, 1928 Burleson, Johnson County, Texas
Died: February 2, 1995 China Spring, McLennan County, Texas
Parents:
John Henry Earl Collier (1890 – 1955)
Lena Blanch Pope Collier (1896 – 1964)
Spouse: Margie May McAdams Collier
John Earl (PeeWee) Collier, 66, of China Spring, died Thursday at his home.
Services will be 11 a.m. Monday at China Spring Baptist Church, the Rev. Charles Wilson and the Rev. Earl Lanting officiating. Burial in China Spring Cemetery.
Mr. Collier was born Oct. 10, 1928 in Burleson. he had l ived in the Waco area most of his life. He married Margie McAdams on Jan. 24, 1948. Mr. Collier owned and operated a Gulf Service Station on Columbus Ave. during the 1960s and 1970s. He also worked for Waco Paving as an heavy equipment operator and later as a foreman before he retired. After his retirement, he restored antiques and fished. He was a Baptist.
Survivors include his wife; three sons, Dickie Collier of Elm Mott, Tim Collier and Terry Collier, both of Waco; daughter, Debbie Wenzel of Garland; sister, Ruth Erlanson of Waco; 10 grandchildren, six-great-grandchildren.