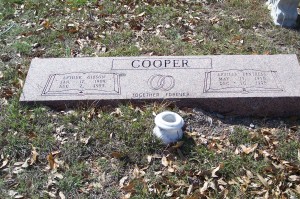 Location: V-Eichelberger
Born: January 17, 1909 Savanah, Pittsburg, Oklahoma
Died: August 2, 1993 Kaufman, Kaufman County, Texas
Son of John Bradford Cooper and Martha Virginia Cooper
Spouse: Arvilla Fentress Cooper
Arthur G. Cooper of Warsaw, the uncle of China Spring resident David Haferkamp, died Monday in Kaufman.  He was 84.
Services will be at 10 a.m. today at Anderson-Clayton Funeral Home in Kaufman.  Graveside services will be at 3 p.m. today at China Spring Cemetery in China Spring.
Mr.  Cooper was born Jan. 18, 1909.  He married Arvilla Annabell Fentress 57 years ago.
Survivors include his wife; a son, A. B. Cooper of Kaufman; three grandchildren; and six great-grandchildren.