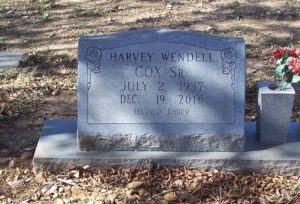 Born: July 2, 1937 Waco, McLennan County, Texas
Died: December 19, 2016 Waco, McLennan County, Texas
Parents: Edgar "Ed" Cox and Marjorie Brow (Breau) Cox
Parents:
Edgar Cox (1899 – 1968)
Spouse:
Karen Sue Schultz Cox (1940 – 2016)
Siblings:
Kenneth A Cox (1931 – 2005)
Clifford Edward Cox (1932 – 1996)
Harvey Wendell Cox, Sr., 79, of Waco passed away peacefully Monday, December 19th, at Providence Hospice Place.
Visitation: Thursday, December 22nd from 6:00PM to 8:00PM at Lake Shore Funeral Home, 5201 Steinbeck Bend in Waco
Funeral Services: Friday, December 23rd at 10:00AM at Lake Shore Funeral Home Chapel with his son, Rodney Cox officiating
Burial: China Spring Cemetery.
Harvey was born July 2, 1937 in Waco to Ed and Marjorie (Cudd) Cox. He married Karen Sue Schultz on May 31, 1958. In the 1950's, he played fast pitch softball and was an outstanding pitcher in Waco's historic semi-pro softball league. His career included pipeline welding for Houston Natural Gas, car sales at Waco Dodge, owner of Competition Sales Speed Shop in Waco and Killeen with his brother Kenneth, and Service Manager for Duncan Truck. The last 25 years, Harvey has owned and operated Preventative Maintenance Services, maintaining Safety-Kleen and Oncor fleet vehicles.
Harvey was best known for Harvey Cox Racing. His racing career spanned over 60 years including 32 years of NHRA Drag Racing, followed by 32 years of Stock Car Racing with many championships and records set along the way. A pinnacle was winning the Nascar Sunbelt Region National Championship Trophy, awarded in Nashville, TN in 1997. The capstone of his career was being inducted into the H.O.T. Speedway Sports Wall of Fame. Harvey's racing history and memorabilia is displayed at JEA Speed Cave Racing Museum in Axtell.
Harvey's greatest supporter and silent partner was Karen Sue. Family and friends have been inspired by the depth of their love and Karen's devotion to Harvey as he chased his dreams.
He was preceded in death by his parents; wife of 58 years, Karen Sue Cox; son, Harvey Wendell Cox, Jr.; brothers, Kenneth Cox, Raymond Cox and Clifford Cox; and infant twin sisters.
NOTE: Harvey is the son of Edgar "Ed" Cox and Marjorie Brow (Breau) Cox, daughter of Sarah Josephine Cudd Brow and William Charles Ray Brow, son of Alexander Ross Cudd and Sarah Taylor Cudd.