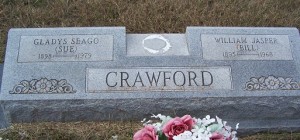 Location: N-Crowson
Born: July 21, 1898 McLennan County, Texas
Died: October 28, 1979 Desoto, Dallas County, Texas
Parents:
James Jefferson Seago (1876 – 1947)
Lura Smith Seago (1879 – 1962)
Spouse:
William Jasper Crawford (1895 – 1968)
Children:
Wanda Marie Crawford Payne (1922 – 1990)
Mrs. Gladys Crawford of Desoto, died Saturday in Desoto.
Services will be at 2:00 p.m. Tuesday at China Spring Methodist Church, the Rev. Gene Moore officiating. Burial will be in China Spring Cemetery.
Survivors include her daughter, Mrs. John ( Dorothy Marie) Payne of Desoto; three sisters, Eda Thompson of Waco, Mrs. Buffer (Alleyne) Pittman of Stephenville and Mrs. Buster (Virginia Louise) Duncan of Hico; a brother, Harry Seago; a grandson, Larry Payne of Bryan; granddaughter, Carol Baker of Lancaster; and four great-grandchildren.