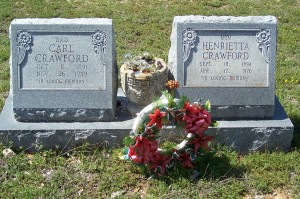 Location: G-Ferguson
Born: September 18, 1894 McLennan County, Texas
Died: April 17, 1976 Waco, McLennan County, Texas
Parents:
Edward Lawson Drahn (1861 – 1951)
Henrietta Brock Drahn (1867 – 1962)
Spouse:
Carl Otis Crawford (1891 – 1959)
Children:
Infant Son Crawford
Edward Lorahn Crawford (1912 – 1973)
Ollie Corinne Crawford Garrett (1914 – 2007)
Vivian Oleta Crawford Wallen (1916 – 1999)
Lois Wynona Crawford Carpenter (1918 – 2002)
Otis Carl Crawford (1920 – 1997)
Dorothy Etta Crawford Talbert (1921 – 1990)
Billy Mac Crawford (1928 – 2012)
Mrs. Carl (Henrietta) Crawford, 81, of Waco died Saturday afternoon in a local hospital.
Services will be at 2:30 p.m. Monday in Wilkirson and Hatch Funeral Home Chapel, Rev. H. O. Bilderback officiating; Burial will be in China Spring Cemetery.
Survivors: four daughters, Mrs. Dinkie (Ollie Corinne) Garrett, Mrs. Herbert (Vivian Oleta)Wallen and Mrs. Coke (Lois Wynona) Carpenter, all of China Spring and Mrs. C.O. (Dorothy Etta) Talbert of Valley Mills; two sons, O.C. Crawford and Billy Mac Crawford, both of Valley Mills; one sister, Mrs. Lou Roenfeldt of Pampa; two brothers, Lawson Drahn of China Spring and W.T. Drahn of Waco; 18 grandchildren; 33 great-grandchildren; and five great-great-grandchildren.