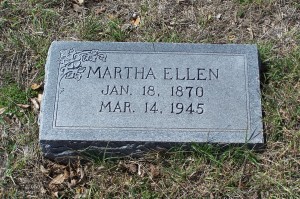 Location: K-Jay
Born: January 18, 1870 Bentonville, Benton County, Arkansas
Daughter of Jasper Jay and Mary Susan Simmons Jay
Parents:
Jasper Jay (1844 – 1924)
Spouse:
Richard Lorahn Crawford (1868 – 1951)
Children:
Carl Otis Crawford (1891 – 1959)
Alma Pearl Crawford (1892 – 1894)
William Jasper Crawford (1895 – 1968)
Ira Anna Crawford Pierce (1895 – 1956)
Lorahn Lee Crawford (1897 – 1952)
Bernice Anderson Crawford (1899 – 1967)
Lillian Myrtice Crawford Grayson (1901 – 1987)
Dorothy Beatrice Crawford Eichelberger (1903 – 1978)
Ethel Marie Crawford Smith (1906 – 1996)
Ruby Crawford Garrett (1908 – 1996)
Jimmie Ruth Crawford Golding (1910 – 2001)
Juanita Crawford Hundley (1913 – 1959)
Mrs. Martha Ellen Crawford, 75, died at 11:45 p.m. Wednesday at her home in China Spring.
Funeral services will be held at 3:30 p.m. Friday at the China Spring Methodist Church, Rev. J.D. Scott and Rev. B. O. Herring officiating, burial in China Spring Cemetery.
Survivors: Husband, R. L. Crawford; seven daughters, Mrs. W.L. (Ethel Marie) Smith, Mrs. Johnnie B. (Ruby) Garrett, Mrs. Harvey (Dorothy B.) Eichelberger, Mrs. L. H. (Ira Anna) Pierce, all of China Spring, Mrs. H.H. (Lillian Myrtice) Grayson of Waco, Mrs. A. C. (Jimmie Ruth) Golding of Lorena, Mrs. A. W. Schwing if Culver City, California; four sons, B.A. Crawford, O.C. Crawford, W. J. Crawford and L.L. Crawford of Culver City; four sisters, Mrs. S. M. Neelley, Mrs. J. S. Brown, Mrs. Ethel Chapman and Miss Sallie Jay; two brothers, R. M. Jay and Hubert Jay; 23 grandchildren and 13 great-grandchildren.
Mrs. Crawford was born in Bentonville, Arkansas and had been a member of the Methodist church since she was ten years of age.