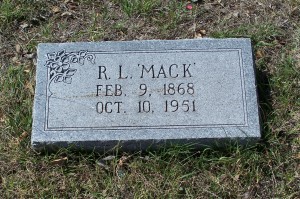 Location: K-Jay
Born: February 9, 1868 Montgomery County, Arkansas
Died: October 10, 1951 China Spring, McLennan County, Texas
Son of R. L. Crawford and Sara Ann Crowson
Parents:
Sarah Ann Crowson Banton (1848 – 1928)
Spouse:
Martha Ellen Jay Crawford (1870 – 1945)
Children:
Carl Otis Crawford (1891 – 1959)*
Alma Pearl Crawford (1892 – 1894)*
William Jasper Crawford (1895 – 1968)*
Ira Anna Crawford Pierce (1895 – 1956)*
Lorahn Lee Crawford (1897 – 1952)*
Bernice Anderson Crawford (1899 – 1967)*
Lillian Myrtice Crawford Grayson (1901 – 1987)*
Dorothy Beatrice Crawford Eichelberger (1903 – 1978)*
Ethel Marie Crawford Smith (1906 – 1996)*
Ruby Crawford Garrett (1908 – 1996)*
Jimmie Ruth Crawford Golding (1910 – 2001)*
Juanita Crawford Hundley (1913 – 1959)
Funeral services will be held at 3 p.m. Friday at China Spring Baptist Church for Richard L. (Mack) Crawford, 83 year old China Spring farmer and rancher who died Wednesday afternoon at his home.
Rev. Don V. Richey and Rev. Malcolm Harrell will officiate the services, burial in China Spring Cemetery.
Mr. Crawford had lived in China Spring for the past 71 years, moving there from Montgomery County, Arkansas at the age of 12.
He is survived by seven daughters, Mrs. L.H. Pierce, Mrs. H.H. Grayson, Mrs. W. L. Smith, Mrs. J.B. Garrett, Mrs. Harvey Eichelberger, Mrs. A. C. Golding and Mrs. D. T. Hundley; four sons, O.C. Crawford, W.J. Crawford, B.A. Crawford and L.L. Crawford; 26 grandchildren, 14 great-grandchildren and two great-great-grandchildren.