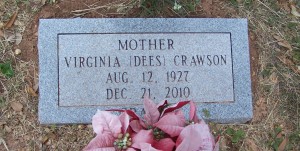 Location: Q-McLennan
Born: August 12, 1927
Death: December 21, 2010 Whitney, Hill County, Texas
Parents:
Charles Freeman Dees (1870 – 1953)
Dessie Mae Fernald Dees (1884 – 1930)
Spouse:
Morris John Crawson (1925 – 1993)
Children:
Morris Elton Crawson (1953 – ____)
Siblings:
Melba Ragan Dees Crisman Martin (1904 – 2000)
Henry Pershing Dees (1918 – 2006)
Ethel Virginia Crawson, 83, of Lake Whitney, died Dec. 21, 2010, at her home.
Funeral service will be 10 a.m. Dec. 23 in the Clifton Funeral Home Chapel with the Rev. Glenn Gray officiating. Burial will follow in the China Spring Cemetery. Visitation will be 5 to 7 p.m. Wednesday at the funeral home.
She was preceded in death by her husband, John Crawson.
Survivors include her son, Buster Crawson, of Laguna Park; grandchildren, John Curtis Crawson, of Whitney and James Clinton Crawson, of Mador; and great-grandchildren, John Carter Crawson and Jordon Paige Crawson.