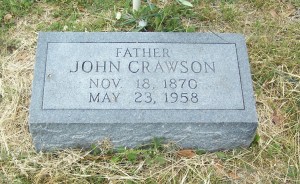 Location: Q-McLennan
Born: November 18, 1870 Falls County, Texas
Died: March 23, 1958 Valley Mills, Bosque County, Texas
Spouse:
Martha Elizabeth Gyles Crawson (1884 – 1958)
Children:
Fannie Mae Crawson Cochran (1902 – 1976)
Tommie David Crawson (1905 – 1973)
Melvin Crawson (1908 – 1984)
Alton M Crawson (1911 – 1937)
Jewell Vernell Crawson Hoggatt (1913 – 1987)
Murril Gibson Crawson (1915 – 1988)
Vina Elizabeth Crawson Organ (1922 – 2009)
Morris John Crawson (1925 – 1993)
John Crowson, 89, of Valley Mills died at 11 a.m. Sunday at his residence.
Funeral services were held at 4:00 p.m. Monday at First Methodist Church of China Spring, Rev. J. K. Brint officiating, burial in China Spring Cemetery.
Survivors: Widow, Mrs. Elizabeth Crowson; three daughters, Fannie May Cochran, Mrs. Jewel Hoggatt and Mrs. Vina Langford; four sons, Tommy Crowson, Malvin Crowson, M.H. Crowson, and Morris J. Crowson; 11 grandchildren; seven great-grandchildren.