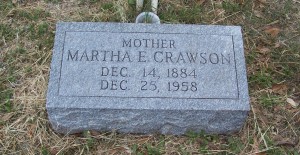 Location: Q-McLennan
Born: December 14, 1884 Atlanta, Fulton County, Georgia
Died: December 25, 1958 Valley Mills, Bosque County, Texas
Daughter of Andy and Ollie Gyles
Spouse:
John Crawson (1870 – 1958)
Children:
Fannie Mae Crawson Cochran (1902 – 1976)
Tommie David Crawson (1905 – 1973)
Melvin Crawson (1908 – 1984)
Alton M Crawson (1911 – 1937)
Jewell Vernell Crawson Hoggatt (1913 – 1987)
Murril Gibson Crawson (1915 – 1988)
Vina Elizabeth Crawson Organ (1922 – 2009)
Morris John Crawson (1925 – 1993)
Funeral services for Mrs. Martha Elizabeth Crawson, Valley Mills residence for more than 50 years, were held at China Spring Baptist Church, Rev. Earl Vandeford officiated. Burial was in China Spring Cemetery.
Mrs. Crawson died Thursday at here Valley Mills home. She was 75 and a native of Georgia.
Survivors are four sons, T. D. Crowson, M .J. Crowson, J. M. Crowson and M. G. Crowson; three daughters, Mrs. Vina Lankford, Mrs. Jewell Hoagatt, and Mrs. Fannie Mae Ullery; four sisters, Mrs. Estelle Seals, Mrs. Ophelia Nichols, Mrs. Erna Nichols and Mrs. Johnnie Walker; 12 grandchildren and 12 great-grandchildren.