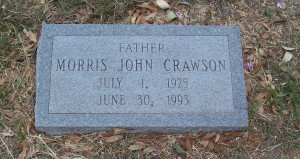 Location: Q-McLennan
Born: July 1, 1925 Dallas, Dallas County, Texas
Died: June 30, 1993 Clifton, Bosque County, Texas
Parents:
John Crawson (1870 – 1958)
Martha Elizabeth Gyles Crawson (1884 – 1958)
Spouse:
Ethel Virginia Dees Crawson (1927 – 2010)
Morris John Crawson, 67, of Laguna Park died Wednesday at his home.
Services will be at 2:30 p.m. Saturday at Clifton Funeral Home Chapel in Clifton, the Rev. Robert Davenport and the Rev. Allen Lane officiating. Burial will be at China Spring Cemetery.
Mr. Crawson ws born July 1, 1925, in Dallas. He married Virginia Dees on June 27, 1944.
Survivors include his wife; a son, Buster Crawson of Whitney; sister, Vina Organ of Laguna Park; and four grandchildren.