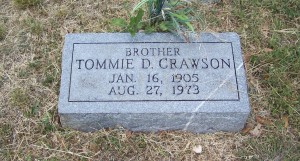 Location:  Q-McLennan
Born:: January 16, 1905 China Spring, McLennan County, Texas
Died: August 27, 1973 Austin, Travis County, Texas
Parents:
John Crawson (1870 – 1958)
Martha Elizabeth Gyles Crawson (1884 – 1958)
Spouse:
Alma Vivian Patton Crawson (1909 – 1993)
Tommie D. Crawson, 68, of Austin, died Monday in an Austin hospital.
Funeral services will be held at 11 a.m. Thursday at China Spring Baptist Church, Rev. Hoyt Hunnicutt officiating, burial in China Spring Cemetery.
Survivors: his wife of Austin; two daughters, Mrs. Maxine Ransom of Austin and Mrs. Jane Marx of Cedar Creek, Texas; three sisters, Mrs. Vina Organ and Mrs. Jewell Haggett, both of Garden Grove, California, Mrs. Francis Cochran of Clifton; three brothers, John Crawson, M. G. Crawson and Melvin Crawson.