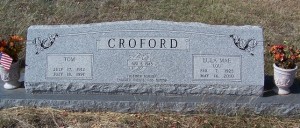 Location: P-Higginbotham
Born: February 7, 1925 St. Martinsville, St. Martin Parish, Louisiana
Died: May 16, 2010 Waco, McLennan County, Texas
Parents:
Saul Joseph Delcambre (1892 – 1980)
Edna Comeaux Delcambre (1890 – 1979)
Spouse:
Thomas Forest Croford (1912 – 1997)
Children:
Tommy Dean Croford (1946 – 1978)
Michael Wayne Croford (1949 – 2003)
Siblings:
Wasey J Delcambre (1912 – 1998)
Dewey Joseph Delcambre (1913 – 1984)
Evans J Delcambre (1915 – 1985)
Jesse J Delcambre (1921 – 1962)
Saul J Delcambre (1929 – 1962)
Lula Mae Croford, 85, passed away Sunday, May 16, 2010. Services will be 3 p.m. Wednesday, May 19, at OakCrest Funeral Home Chapel with Msgr. Mark Deering officiating. Burial will follow at China Spring Cemetery. The rosary will be recited at 5 p.m. Tuesday, May 18, with visitation following until 7 p.m. at the funeral home.
Lula was born in St. Martinsville, La. She worked for many years at Gibson's Discount Center in Waco.
She was preceded in death by her husband, Tom Croford; and her sons, Tommy Dean Croford and Mike Wayne Croford.
Lula Mae is survived by her granddaughters, Tracy Nolte and husband, Danny, Tiffany Lightfoot, Micha Hibbs and husband, Cavin, and Melesa Timmons; grandsons, Tony Croford and wife, Rhonda, and Todd Croford; and 15 great-grandchildren.