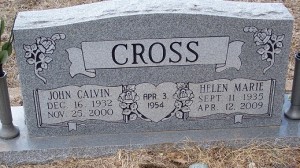 Location: N-Crowson
Born: September 11, 1935 Rogers, Bell County, Texas
Died: April 12, 2009 Moody, McLennan County, Texas
Parents:
Edgar Thomas Tate (1915 – 2000)
Ruby Lee Brunson Booth (1913 – 1981)
Spouse:
John Calvin Cross (1932 – 2000)
Helen Marie Tate Cross, 73, of McGregor, passed away Sunday, April 12, 2009, at the Moody Hometown Care Center. Funeral services will be 10 a.m. Wednesday, April 15, at Lake Shore Funeral Home Chapel with the Rev. Robert Nelson officiating. Burial will follow at China Spring Cemetery. Visitation will be 6 to 8 p.m. Tuesday, April 14, at Lake Shore Funeral Home in Waco.
Helen was born in Rogers, Texas.
She was preceded in death by her husband of 46 years, John Calvin Cross; and brother, Thomas Tate.
Survivors include sons, Doyle Cross, of McGregor, and J.D. Cross and wife, Gayle, of Valley Mills; daughter, Teressa Garrett and husband, Jerry, of Moody; grandchildren, J.W. Garrett and wife, Candie, of Temple, and Kellie Hughes and husband, Marcus, of Moody; great-grandsons, Derek and Dawson Hughes and Cody and Jason Garrett; sisters, Rose Wetzel and husband, Wilbur, of Robinson, and Darlene Jackson and husband, Carl, of McGregor; and brothers, James Tate and wife, Carolyn, of Cameron, Lynn Booth and wife, Georgiana, of Robinson, and Randy Booth and wife, Marsha, of Hewitt.