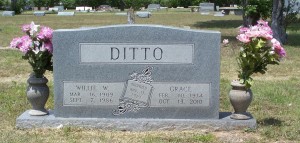 Location: M-Harris
Born: February 10, 1914 Bosque County, Texas
Died: October 13, 2010 Waco, McLennan County, Texas
Parents:
Sul Ross Wells (1886 – 1965)
Sarah Margaret Hicks Wells (1887 – 1972)
Spouses:
Bryant King Crow (1910 – 1998)
Willie Wiley Ditto (1909 – 1986)
Grace Wells Ditto Crow, 96, of China Spring, passed away Wednesday, October 13, 2010.
Graveside services will be 10 a.m. Saturday, October 16, at China Spring Cemetery with the Rev. Curtis Holland and the Rev. Jeff Huckeby officiating.
Grace was born February 10, 1914 in Bosque County to Sul Ross and Sarah Margaret Hicks Wells. She graduated high school in China Spring and married Willie Wiley Ditto, April 3, 1929. Grace was a nurse at Hillcrest hospital for twenty four years and retired in 1976. She was a member of Grace Temple Baptist Church. On January 14, 1989, she married Bryant King Crow.
She was preceded in death by her parents; her husbands, Willie W. Ditto and Bryant K. Crow; brothers, Homer, E. R. Jack, Luther and Edmond; sister, Blanche Durko; son in law, R. V. Price, JR.; granddaughter, Susan Price Fischers; and two great-granddaughters.
Survivors include her daughters, Dorothy Price and Jack Smith, and Sandra Clemmons and husband, Robert; grandchildren, Robert V. Price III, Lynda Price, Tracy Murray and husband, Ernie, and Lean Murphy and husband, Mike; six great-grandchildren; sister, Edith Snow and husband, Jay; sisters-in-law, Ellie Wells and Tempe Wells; several nieces and nephews; and long time friends Mickey Marrquin and Pauline Smith.