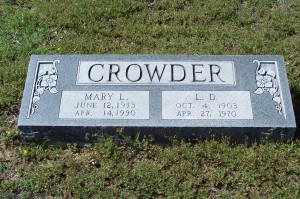 Location: G-Ferguson
Born: October 4, 1903 McLennan County, Texas
Died: April 27, 1970 Waco, McLennan County, Texas
Parents:
William Everett Crowder (1874 – 1944)
Tessie Kilpatrick Crowder (1882 – 1909)
Spouse:
Mary L. Smith Schlottman (1913 – 1990)
Siblings:
William V Crowder (1897 – 1955)
Minnie Pearle Crowder Brewer (1913 – 2003)
Funeral services for L. D. Crowder, a life-long resident of China Spring, will be at 2:30 p.m. Wednesday at Connally Chapel. Rev. Gary Hearon will officiate, burial will be in China Spring Cemetery.
Mr. Crowder died Monday afternoon in a Waco hospital. He was 66.
Survivors are his wife, Mrs. Mary Crowder of China Spring; two sisters, Mrs. H.H. Johnigans of Ozona and Mrs. Pearl Brewer of Mount Pleasant; a step son, A. L. Beal of California.