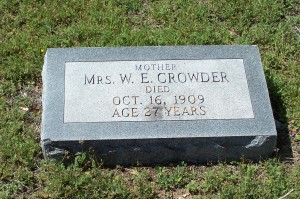 Location: G-Ferguson
Born: 1882 Alabama
Died: October 16, 1909 China Spring, McLennan County, Texas
Parents:
Fountain L Kilpatrick (1858 – 1932)
Martha A Willoughby Kilpatrick (1859 – 1949)
Spouse:
William Everett Crowder (1874 – 1944)
Children:
Billie V Crowder (1897 – 1955)
L D Crowder (1903 – 1970)
WACO DAILY TIMES HERALD
OCTOBER 16, 1909
SATURDAY
DEATH OF A YOUNG WOMAN
Mrs. W. E. Crowder, aged 27 years, died at her home at China Springs, at 1 o'clock this morning. Funeral services took place at 3 this afternoon, the remains being interred in the cemetery at that place. The deceased, who was called to her reward while in the prime of life, was very highly esteemed in the community where she lived. Her demise has caused sorrow and regrets to a host of friends, who extend heartfelt sympathy to the bereaved husband and two surviving children.
William "Billy" V. "BV" Crowder Born 1897
L.D. Crowder 10-4-1903 to 4-27-1970
After Tessie's death the two boys were raised by their
Grandmother, Martha Kilpatrick and Tessie's Sister, Hattie
Kilpatrick.