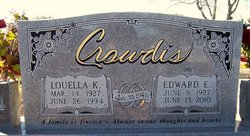 Location: U-Baker
Born: June 8, 1927 Clinton, Custer County, Oklahoma
Died: June 13, 2010 Fort Worth, Tarrant County, Texas
Parents: Theodore Riley and Eunice Elizabeth (Edna) Moore Crowdis
Parents:
Theodore R Crowdis (1903 – 1954)
Eunice Elizabeth Moore Crowdis McCall (1908 – 1991)
Spouse:
Louella Katherine Ferguson Crowdis (1927 – 1994)
Children:
Ronald E Crowdis (1947 – 1947)
Edward Earl Crowdis Sr., 83, formerly of Waco, passed away Sunday, June 13, 2010, in Fort Worth, Texas. Funeral services will be 10 a.m. Wednesday, June 16, 2010, at Connally/Compton Funeral Directors Chapel with the Rev. Carroll Smith officiating. Burial will follow at China Spring Cemetery. Visitation will be 6 to 8 p.m. Tuesday, June 15, at the funeral home.
Edward was born in Clinton, Okla. to the late Theodore Riley and Eunice Elizabeth (Moore) Crowdis. He retired from the U.S. Air Force, serving in World War II and Korea and he received a Purple Heart. He was a devoted husband, father, and grandfather and will be deeply missed by all who knew and loved him.
He was preceded in death by his loving wife, Louella Katherine Crowdis; and infant son, Ronald.
Those left behind to cherish his memories are his daughters, Patricia A. Chapin and husband, Terry, and Teresa R. Crowdis; sons, Edward Earl Crowdis Jr. and wife, Joni, and John C. Crowdis and wife, Chari; 11 grandchildren; 30 great-grandchildren; and four great-great-grandchildren; brothers, Russell Crowdis and wife, Margaret, Donald Crowdis and wife, Siri, Eugene Crowdis and wife, Betty; and sister, Betty Roberts and husband, Harold "Slim"; and many other family members and friends.